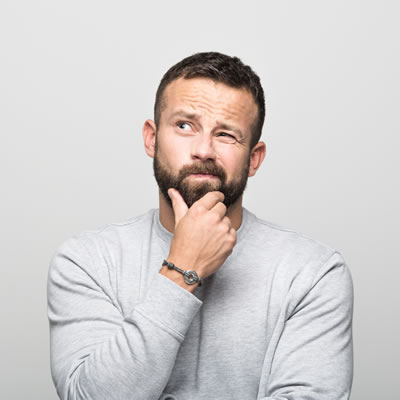 Whether you're new to chiropractic or considering becoming a patient at our office, it's natural that you'd have some questions. Here, you'll find that we have gathered the questions we are most frequently asked, so you can get the answers you need.
Is chiropractic care effective?
Chiropractic is a non-invasive, drug-free form of health care. It has helped numerous people, all over the world.
---
Is chiropractic safe?
Yes, very. Dr. Joel delivers a specific, gentle adjustment. If you have some minor soreness after your first couple of adjustments, know that it's just your muscles beginning to work properly again.
We utilize state-of-the-art X-ray technology to evaluate you, which means we'll know exactly where to adjust you to help with your problem.
Is the popping or cracking sound dangerous?
No! Think of when you open a soda can and pressure is released. If you hear a noise during your adjustment, it is gas bubbles being released. It's normal and doesn't indicate pain or discomfort.
What is the difference between chiropractic, massage and physical therapy?
Chiropractors are the only practitioner who focuses on the nervous system. They work with muscles, bones, joints, ligaments, tendons and all the soft tissues of the body. This extremely thorough approach will relieve pressure on your nerves, alleviating your pain and helping you be at your best.
If you have other health care practitioners on your team, we will be happy to co-manage your case with them. Or if you can benefit from seeing someone else, we'll be sure to refer you.
When will I start feeling better?
Our goal is to get your relief started right away from your first adjustment. Each builds on the next to add up to results. You didn't get to your current state of health overnight and know that it can take time for your body to realign. Your treatment plan will be customized to your individual needs.
What happens during my first visit?
When you get here for your initial visit, prepare for Dr. Joel to do a deep dive into your history and current problems. We want to make sure that we get all pieces of the puzzle to discover what's behind your issues. The testing performed includes a posture assessment, orthopedic tests and motion X-rays. Then, Dr. Joel will analyze your case and let you know which treatment plan will work best for you to get back to a state of great health.
What are the advantages of seeking chiropractic care?
In the simplest terms, we get people back to doing what they love. Sure, relieving your pain is a pretty big deal. But it's more about being proactive-getting your body into a true healing state so that you can stay well in the long term.
If I feel fine, could I still benefit from chiropractic?
Absolutely! There are patients at Community Chiropractic Center who come in not when they're in pain, but because they can tell it makes them feel even better and healthier. Though most people find their way to us because they're in a state of discomfort, you don't have to wait until you have a problem to see us.
Just as you visit a dentist for regular checkups, a chiropractor can make sure spinal dysfunction isn't affecting you.
Does an adjustment hurt?
No. Chiropractors are trained to deliver adjustments that are gentle and specific, making your adjustment effective and comfortable for you.
When my spine pops, is it the same as an adjustment?
No. A pop in the spine means that movement is put into a specific joint. You can't, however, know which segment is being adjusted without going to a qualified chiropractor. You may be moving a part of your spine in the wrong direction if you try to make that popping sound on your own. Your best bet is to come in for an appointment and discover how we may be able to help you!