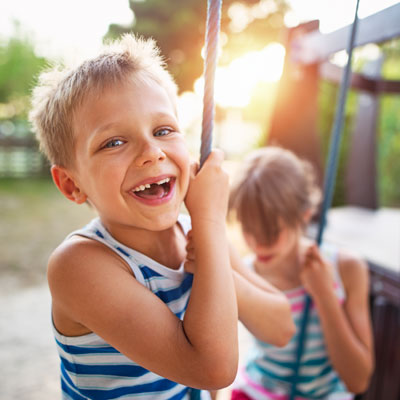 Pediatric Chiropractic at
Community Chiropractic Center
Here at Community Chiropractic Center, we want to help your whole family live happier and healthier. In addition to prenatal chiropractic care, we offer pediatric chiropractic care to children of all ages.
As a pediatric chiropractor, Dr. Joel is trained to gently and specifically adjust babies and adolescents alike. Through careful chiropractic adjustments, he is able to keep your little ones healthy as can be as they grow and develop. Learn more about what we have to offer the smallest members of your family.
Like adults, kids feel a significant amount of stress on a daily basis. From rough play to the pressure of school to injuries on the soccer field, their little bodies take on a lot. This stress often leads to outward symptoms, such as neck pain, low back pain, and headaches. In addition, chiropractic care has been known to address the following:
Colic
Acid reflux
Ear infections
Digestive issues
Poor sleep
ADHD
It is crucial that when health concerns do arise, we take a look and find out whether or not they are related to the spine. If so, chiropractic care can then be used to correct misalignment and alleviate corresponding symptoms.
While children are similar to adults in the way that they are constantly met with stressors, they are not simply small adults. Dr. Joel has the knowledge and expertise to gently evaluate and adjust your child according to their unique needs. Unlike standard chiropractic adjustments, pediatric chiropractic adjustments are light-pressure and low-force.
Dr. Joel most commonly uses the Diversified Technique and Activator Method® for pediatric adjustments. While Diversified is a manual, hands-on approach to care, Activator Method® relies on a small handheld tool called the Integrator™. This tool allows Dr. Joel to adjust children without the cracking and popping noises traditionally associated with chiropractic care.
Rest assured, our approach to care is gentle and depends entirely on the child.
One of the things we want to know is how the pregnancy went and how was the delivery. If it was a C-section, if they needed to use a vacuum or forceps, that added force to help get the baby out is important to know because there could be issues as a result of the birthing process.
After taking your child's medical history and performing an evaluation, we also may take X-rays-depending on your child's age. We will ask you what particular issue you're looking to resolve.
A Patient Success Story
A woman brought her daughter in for help for the girl's ear infections. Getting tubes was going to be the next step. As a result of chiropractic care, we were able to stop the ear infections from occurring frequently and the girl was able to avoid surgery.
Do you adjust children differently than adults?

Yes, very little force is used on children. For example, we apply about the same pressure on an infant as we would to check a tomato for ripeness. We also can use instrument-assisted adjusting, which is also very light force.

Can chiropractic care help keep my child healthy?

Yes, chiropractic can help promote proper growth and development. It also can keep your child's immune system strong and allow them to get good sleep. We look at chiropractic as a form of natural preventative health care that can help children of all ages get well and stay well. We believe it's better to be proactive versus reactive.

Do you adjust on the first visit?

As we don't take X-rays on babies, we will adjust them on the first appointment. For older children, we may take X-rays.

Get Started Today
From the moment we meet your child, we are committed to doing all that we can to make them feel comfortable and keep them healthy.
Contact our practice today to book an appointment for pediatric chiropractic Greer. We are happy to help you get started.
CONTACT US »

Pediatric Chiropractor Greer SC | (864) 469-7979