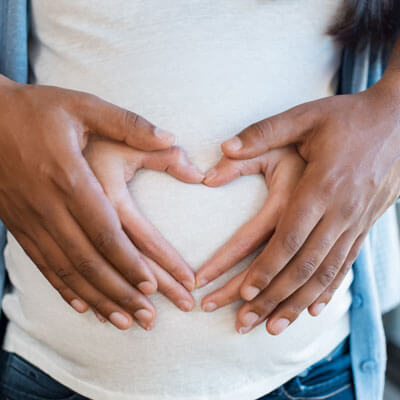 Pregnancy Chiropractic at
Community Chiropractic Center
We understand that pregnancy often comes with aches and pains. To keep you comfortable during pregnancy, Community Chiropractic Center offers prenatal chiropractic care. This specific approach to chiropractic care is a natural way to help women during pregnancy as well as encourage smoother labors and deliveries.
Dr. Joel is trained to provide expectant mothers, and in turn, their unborn babies, with the specific, gentle care they need to thrive. Learn more about our approach to prenatal chiropractic care.
While pregnant, the female body undergoes a lot of change in a short amount of time. The body produces hormones that relax the ligaments and joints. Similarly, your growing belly throws off your pelvic balance, which often leads to misalignment of the pelvis and hips. These shifts often result in neck pain, low back pain, hip pain, pubic pain, sciatica, and more.
With chiropractic care, we are able to help your body better accommodate such rapid change. Each adjustment works to keep you properly aligned and moving comfortably from your first month of pregnancy to your last.
Throughout pregnancy, your body shifts to create space and your pelvis opens to prepare for childbirth. This not only affects your health, but it also affects the growth and development of your baby.
If your body is aligned, it is likely that you will feel less stress. This means that your baby will also be more relaxed in utero. Similarly, if your body is in the proper position, your baby will have optimal space to grow, develop, and move inside your body. It is this concept that makes chiropractic care a good natural solution to breech presentation.
We do not care for pregnant patients the same way we would care for a non-pregnant patient. As you are uniquely housing a growing baby, it is important that we follow particular protocol when it comes to performing each of your chiropractic adjustments. Dr. Joel is well-versed in a variety of gentle chiropractic techniques, including the Webster Technique, to carefully adjust expectant women.
For some women, the Webster Technique has helped make the difference between having a natural childbirth and a C-section.
What are the benefits of getting chiropractic care during pregnancy?

Being under care during pregnancy can help you be more comfortable. Chiropractic can naturally reduce pain and nausea and perhaps help you sleep better. This form of natural care also may support a better mental outlook. Chiropractic is also drug-free, so pregnant patients can get natural and safe pain relief.

Is chiropractic safe for moms-to-be and their baby?

Yes. We use different adjusting techniques to assure that it's a more comfortable and safe adjustment. We have pregnancy pillows and we adjust the table to allow pregnant women to be comfortable during their adjustments.

When should I begin care?
While we recommend being under care if you're trying to conceive, chiropractic care can be beneficial throughout every stage of pregnancy. By coming in as soon as possible you can prevent things like low back pain or sciatica from even happening.
One of our patients didn't go through chiropractic care their first time and as a result didn't have a pleasant pregnancy experience. After giving birth, she came in for adjustments. When she got pregnant again, we reminded her to keep coming in to get adjusted so she could avoid issues she experienced the first time as a result of not receiving care.

Can chiropractic care reduce labor time?

It can improve labor outcomes, including reduced labor times.

Will you work with my other doctors or midwives?

Yes, you'll work with your care team, including physicians and midwives and whoever else is part of the team.

Schedule Your Appointment
We are here for you no matter how far along you are in your pregnancy. Our practice is committed to supporting you before, during, and after your baby is born.
Be sure to contact Community Chiropractic Center for more information about pregnancy chiropractic Greer and schedule your appointment.
CONTACT US »

Pregnancy Chiropractor Greer SC | (864) 469-7979